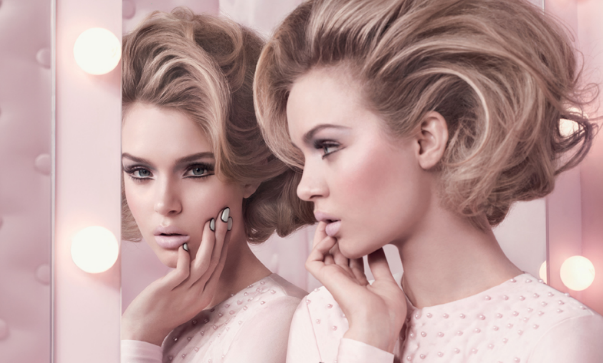 De feestdagen komen er aan, oke het duurt misschien nog even, maar vele beauty merken komen al met hun nieuwe collecties! MAC lanceert 3 november haar Glamour Daze collectie, met deze collectie kom jij de feestdagen wel door hoor. Girly kleuren, een beetje glamour en beauties van een producten! De Extra Dimension Skinfinishes en eye shadows zijn weer van de partij, laten we kijken naar deze glamoureuze collectie!
"Het aura van couture, het drama van de dressing room, het glamoureuze gevoel van de voorbereidingen op de feestdagen. Van zoet tot sexy, van lippen tot nagels. Een onvergetelijke look ontstaat met de glinstering van MAC extra Dimension Skinfinish en Power blush. Evening eyes worden nog mooier met In Extra Dimension Eye shadow, Fluidline en False Lashes. En... de feestelijke finishing touches: Lipglass in Pink Fade en Nail Lacquer in Endless Night."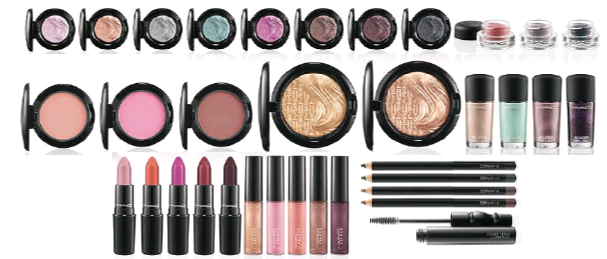 In deze collectie vinden we:
Extra Dimension eye shadow 20,00 Euro
Fluidline 19,50 Euro
Power Blush 24,50 Euro
Extra Dimension Skin Finish 27,50 Euro
Nail Lacquer 14,50 Euro
Lipstick 21,00 Euro
Lipglass 20,00 Euro
Kohl Power eyepencil 17,50 Euro
Mascara 22,00 Euro
Ben je benieuwd naar de kleuren en meer details over de producten? Van af 3 november is de Glamour Daze collectie verkrijgbaar, bij alle verkooppunten en natuurlijk online bij maccosmetics.nl
Ik ben vooral heel benieuwd naar de Extra Dimension skinfinish in Whisper of Gilt, deze skinfish heeft een lichte kleur en een gouden glans. Wauw, deze staat boven aan mijn wishlist hoor! Daarnaast ben ik heel benieuwd naar het nagellakje in de kleur Everything that glitters, een zwarte lak met een heleboel (paarse) glitters. Ik ben benieuwd!
Ik vind het in ieder geval weer prachtige kerst collectie, ik heb al lang niet meer zo'n mooie collectie van MAC gezien, dit is er zeker eentje waarvoor ik eerder m'n bed uit zou gaan. Hi hi
Wat vind jij van deze collectie en welke producten zou jij onder kerstboom terug willen vinden?